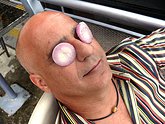 Jose Hernandez Castrodad is a prominent businessman with a strong commitment to the development of art in all its facets, a task he combines with his multiple responsibilities as President of Angora Group, President of Designer Paints, Benjamine Moore Paint, Corp.
Castrodad Hernández studied Business Administration at Assumption College in Worchester, Massachusetts. He holds a BA in Business Administration from Columbia College. Since 1996 has been licensed in Real Estate. He is currently a member of several organizations such as the Board of Realtors Caguas, Caguas Country Club, and of the Advisory Board of the Museum and Center for Humanistic Studies Dr. Josefina Camacho de la Nuez and Hernandez Castrodad Community Foundation. As a result of his brilliant business career, in June 2002, he was honored with President's Special Prize awarded by the Chamber of Commerce of Puerto Rico and later received the Top Management Award 2002 in the category of Construction.
In 2005, with his friend and collaborator Quintin Rivera Toro, he founded Area, a space for the presentation of the work of young artists and curators, and the promotion of a wide and open discussion about cultural and artistic endeavors.
Hernandez Castrodad is actively involved in cultural activities in the Municipality of Caguas, such as the exhibition of its collection of sculptures and paintings by local artists, sponsorship of various public art projects and helping young artists that strive to attain the appropriate vehicle for their work. Recently, a sample of his contemporary art collection traveled to the U.S. where it was exhibited at the Villa Victoria Center for the Arts in Boston and at the Clemente Soto Velez Cultural and Educational Center in New York.
________________________________________________________________
José Hernández Castrodad es un destacado empresario con una marcada dedicación al desarrollo del arte en todas sus facetas, tarea que combina con sus múltiples responsabilidades como Presidente de Angora Group y Benjamin Moore Designer's Paint, Corp.
Hernández Castrodad cursó estudios en Administración de Empresas en Assumption College en Worchester, Massachusetts. Posee un bachillerato en Administración de Empresas del Columbia College. Desde el 1996 cuenta con la Licencia en Bienes Raíces. En la actualidad, pertenece a varias organizaciones tales como: Caguas Board of Realtors, Caguas Country Club, y es miembro de la Junta Asesora del Museo y Centro de Estudios Humanísticos Dra. Josefina Camacho de la Nuez y de la Fundación Comunitaria Hernández Castrodad. Como resultado de su brillante trayectoria empresarial, en junio de 2002, fue galardonado con el Premio Especial del Presidente que concede la Cámara de Comercio de Puerto Rico y posteriormente recibió el Top Management Award del 2002 en la Categoría de Construcción.
En 2005, junto a su amigo y colaborador Quintín Rivera Toro, fundó Área, un espacio para la presentación del trabajo de jóvenes artistas y curadores, y para el fomento de la discusión amplia y libre sobre el quehacer cultural y artístico.
Hernández Castrodad participa activamente en actividades culturales en el Municipio de Caguas, como la exposición de su colección de obras escultóricas y pictóricas de artistas del patio, el auspicio de varios proyectos de arte público y ayuda a jóvenes artistas que luchan por los medios idóneos para crear sus obras. Recientemente una muestra de su colección de arte contemporáneo de viajó a Estados Unidos donde se presentó en el Villa Victoria Center for the Arts en Boston y en el Clemente Soto Velez Cultural and Educational Center en Nueva York.
​